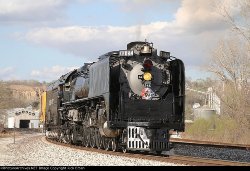 Welcome to the RRPictureArchives.NET contributor site of Rick Erben.



The various albums are largely of contemporary railroading in the digital age as I do not yet have the capacity to scan my decades worth of slides. Nothing terribly fancy here. I generally try to present well lit images but am of the philosophy that trains run in any kind of weather and may present interesting scenes regardless of clouds and sun angle. I prefer locomotive images to be of units on the road and at work with consists. Like it or not, graffiti is ubiquitous and I really enjoy some of the artwork that passes by. Nowadays train watching is like a visit to a vast, colorful, rolling pop art museum and examples of this phenomena are evident in the albums.

Jack Kerouac worked as a Southern Pacific brakeman and referred to this chapter in his life as "The Railroad Earth". I'll endeavor to get some flavor of a particular environment, some way of capturing the urgency, the power and/or the scenic contrast – often with an element of the signal system or other wayside feature of the railroad earth incorporated in the view. Friendly interaction with railroad personnel on an unofficial basis was always a pleasing aspect of being a fan although this has suffered from societal paranoia and litigious malaise. Besides, there aren't that many people along the railroad anymore. Each company used to be sort of a big family and "kin" were scattered about the yards, shops, agencies and fore and aft on trains - even interline. My PRR pass although not technically valid offline would be greeted by a friendly Southern conductor as passage from Atlanta to Washington, DC, for example. There one could ask the engineman of old No.118 for a cab seat and climb aboard a GG-1 for a rocket ride home to Philly. Many of we older folks spent numerous hours at wayside towers or block stations, visiting with operators and watching the flow of traffic. Some of us got so engrossed in the operation that our lives were forever warped by the service, our souls enveloped and freedom succumbed to the varied work schedules and demands of the railroad life. This is by no means a complaint on my part. I am glad to say that through most of my forty plus years of railroad employment I retained an affinity for occasionally getting trackside on my days off and witnessing the myriad changes to the nature of railroading: from the dying gasps of passenger service before Amtrak drove the final intercity stake to the coming of trailer and double-stack trains; the era of burgeoning coal business with the Wyoming Powder River basin business a huge boom time for western roads (of which there are now two); the magnificent improvement in overall track structure to support greater tonnages reliably (a rather amazing transition for those of us who recall what a Penn-Central or Rock Island's track work was); the elimination of communications lines paralleling the right of way and on-going standardization of the signal system as opposed to the many types of signals that defined a particular railroad's line; the transitions in rolling stock and evolution of motive power and, not least, the huge extent of consolidation into the handful of Class One carriers remaining. Today, it seems difficult at times to find an interesting scene into which a train might arrive and pose in passing without all of these unique signal systems, line side poles, stations, etc. Indeed, so spartan is the right-of-way anymore that if the corn is tall one cannot even tell a railroad is out there in the distance unless the sheen of a steel rail in sunshine gives its presence away. But the beat goes on.

I use a Canon Rebel camera and generally just a 35-105mm lens – reliable if mundane. I travel in my four wheeler during periods of colder weather and upon my Harley Ultra-Glide during warmer months. Thus I don't pack a lot of photographic gear – a camera bag, a Panasonic HD-video camera and a small tripod and away we go. The images presented here seem to have validity for one reason or another – the railroad at work, juxtaposed with the scenery or physical element of the right of way and so forth. I hope you enjoy the scenes.



You may browse my collection of pictures via the menu located on the left hand side of the page. I hope you enjoy the collection and thanks for stopping by!